Costa Rica Travel Guide
Welcome to What Costa Rica, your one stop website where you can find everything you could possibly want to know about this enchanting country. So what are you waiting for? Delve in and explore our Costa Rica travel guide from the paradise Pacific and Caribbean coastlines through volcanic and mountainous valleys, national parks and some of the world's most varied flora and fauna, the possibilities are endless in Costa Rica!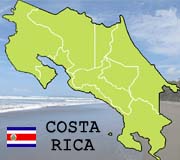 Learn here Costa Rica's historical background is a...
Culture & the Arts
Costa Rica is characterised by the multiple influences that have given rise to an incredible hybrid culture - a fusion of styles and traditions from all over the globe. From museums and music to dancing and fiestas, culture and the arts in Costa Rica are one of the best ways to understand the complexities of the country. Read more
Planning Your Trip
Don't leave home without checking out our top tips on safety and practicalities in Costa Rica! This section contains everything you need to know when planning your trip. How to get grom A to B, where to stay, visa and safety advice and where to learn a bit of the local lingo. Read more
On this guide
In this guide you'll find all the necessary information to plan your trip to Costa Rica. To make it simpler, we've divided all the information into easily identifiable sections, starting with history and finishing with the maps that you'll need to get around.