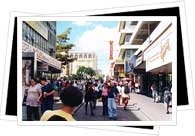 Costa Rica's San José province is slap bang in the middle of the country within the enticing rolling hills of the central valley. The country's capital, San José city, is also located in this province and this is the main reason that people visit the region. Its central location also means it is a perfect gateway for journeying to other parts of the country.
The province is renowned for being lively and modern and many students are attracted to the outskirts of the city to study. However, the surrounding areas also offer some unspoilt natural tranquility. Despite the fact that this province doesn't have any beaches, there are plenty of pretty places to go for a weekend retreat away from the bustle of the city.
The San José province really is at the heart of Costa Rica and is a great place to soak up the culture of the country, especially if your trip coincides with one of the many festivals in the region.
Click on the link to find out more about the highlights of Costa Rica's San José Province.