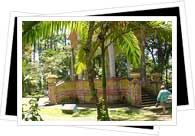 Costa Rica's Limón is the most distinct of all seven provinces. Limón is on the Atlantic side of the country and stretches out for 130 miles. Beautiful beaches, mango trees, national parks and Bob Marley are characteristic of this zone and the flavour is distinctly Afro-Caribbean as opposed to the more traditionally Latin American feel to the rest of the country. It was in this region (Isla Uvita) that Christopher Columbus stepped off his boat in 1502 and on seeing the stunning landscapes that stretched out before him, named the country 'Costa Rica' (or Rich Coast). See the relevant section for more information on Costa Rica's History.
Equally as abundant in naturally beautiful sites, it is not so much Limón's geography that distances it from other Costa Rican provinces, but the atmosphere and the culture. Almost half the inhabitants in this region are Afro-Caribbean, (mainly of Jamaican ancestry) and this is most apparent in the typical food like jerk chicken and curried fish, as well as in the music. In Limón the traditional folk music found in the Guanacaste province is replaced by the cool beats of reggae, calypso and soca. You can truly enjoy this caribbean vibe if you are in Limón for one of its festivals, check out the relevant section for more information and get ready to party! Another difference is the climate; the weather is hot and humid throughout the year as the region does not have a dry season. Limón's principal language is not just Spanish like the rest of Costa Rica, but English Creole, which adds a further dimension to the unique identity of this province.
Whilst in Limón you can enjoy the richness of the land, the beaches, endless sports including horseriding, kayaking and sport fishing, and numerous national parks and nature reserves. Limón is a very special region and within Costa Rica its caribbean flavour is unique, making it an unforgettable destination not to be left off any traveller's itinerary!