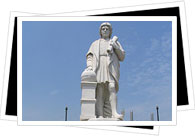 Costa Rica's historical background is a long way from the peaceful and unified reputation that it has today as Central America's oldest democracy.
Whilst we do not have a huge number of clues to the historical past of the country, it is clear that it was inhabited by various different indigenous tribes over 10,000 years ago. Unlike other central American countries, Costa Rica is home to only one main archeological site which has still not been excavated in its entirety. Guayabo is found 30 miles east of San José in the Cartago Province and is said to date back to 1000BC. History states that the population of this lost city never reached more than 10,000 people but there are remains of pottery made from jade and gold, as well as roads, aqueducts and intricately detailed carvings of Costa Rican wildlife.
Christopher Columbus arrived in what is now Limón on his fourth voyage in 1502. He named the country "Costa Rica" (Rich Coast) because all the tribespeople were adorned in gold jewelery. However, when the Spaniards flocked for the gold, the land was not found to be as lucrative as they originally thought. Nonetheless, in 1562 the Spanish rulers in Guatemala sent Juan Vasquez de Coronado to act as governor of Costa Rica and Cartago was made the original capital city.
Costa Rica's economic development moved very slowly to begin with as the colonists had to look after the land without the help of Indian slaves. It was not until the eighteenth century that the settlements of Heredia, Alajuela and San José were established and an economy began to take shape through the exportation of wheat and tobacco. However, news still took a long time to reach the country and when Central America gained its independence from Spain in 1821 it took a month for the the Costa Ricans to find out! However, the province of Guanacaste became part of Nicaragua until 1824 when the residents voted to become part of Costa Rica. This is perhaps the reason that to this day, old customs and traditions are still heavily valued in Guanacaste.
Central America's independence was the cause of a small civil war in 1823 as the governing powers of Cartago and Heredia appealed for the "rich coast" to join newly independent Mexico, whilst those in San José opted for Costa Rica's inclusion with the new federation of Central American states. On April 5th 1823 San José became Costa Rica's new capital city after defeating Cartago in the Battle of Ochomongo. In 1824 Juan Mora Fernández became the first Costa Rican head of state. He was dedicated to advancing the cultivation of coffee, but the riches made by the coffee plantations later led to the development of a sharp social divide. Those made wealthy through the coffee business exerted their power to overthrow Costa Rica's first president, José María Castro.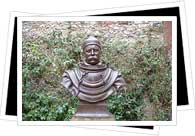 The country was then governed by Juan Rafael Mora. During his time in power, Costa Rica's history became more turbulent as Mora led the natives in a victorious battle against William Walker and his army of Nicaraguan slaves who attempted an invasion in 1856. Juan Santamaría gave his life while torching Walker's tent and forcing the enemy outside to fight. His brave deed was forgotten during 40 years until he was turned into a national hero and a Costa Rican icon. He is remembered in particular in the Alajuela Province where he was born.
Costa Rica's history of political unrest began to become more stable in 1870 when Tomás Guardia began his 12 year stint and set the ball rolling for Costa Rica's evolution to democracy, which occurred over the next half a decade.
Rafael Angel Calderón Guardia introduced very positive policies in 1940 including a set minimum wage, however when his party would not step down in 1948, civil war erupted. Led by José María Figueres Ferrer and with the backing of both Cuba and Guatemala, after 40 days of fighting Figueres was victorious and he became the new President.
Figueres made a huge number of changes and cemented much of what Costa Rica is today. By developing the Constitution of 1949, he granted citizenship to black people and a vote to women, as well as banning the Communist party and armed forces. Figueres also founded the National Liberation Party (PLN). When he died in 1990 he was a national hero and Costa Rica had reached a state of political stability and peaceful democracy.
Whilst Costa Rica's politics continue to change today, the history of the country has set it apart from many other areas of Central America. There are still no armed forces and Costa Rica continues to be one of the safest Latin American countries to visit.