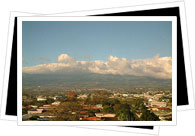 San José is a lively, contemporary metropolis fit to rival any other main urban centre. Located in the very heart of Costa Rica, this capital city cannot be described as beautiful but rather as addictive. The musty, gritty funk of the city leads the visitor into undiscovered quarters allowing them to experience the Costa Rica of today. Whilst much of the life you may encounter here is a million miles from the small towns or from your ingrained preconceptions of the country, this is the place that more than a third of all Ticos call home and it is definitely worth wading beneath the smoggy surface to see what treasures lie beneath.
San José is set at an altitude of 3,772 feet and was founded in 1737, although it only became the capital in 1823 (see the Costa Rica History page for more information). Since then the city has expanded and developed at an alarming rate and today it covers 4,965km sq and has 350,000 inhabitants. There is plenty to do in the city on and off the well trodden tourist track, so let your senses guide and see what you find! For starters, read our top things to do in San José...
Sights in San José City
There are a whole host of interesting museums, including the Museo de Jade which houses the world's largest collection of American jade and is a really incredible sight. Similarly, the Museo de Oro Precolombiano displays an interesting mixture of precolombian gold and modern art and is also very popular. A really impressive contemporary art and design collection can be found at the Museo de Arte y Diseño Contemporáneo. Archeologists should head to the Museo Nacional. The impressive Teatro Nacional is also worth a visit too, built in 1897 this spectacular building oozes grandeur with its neoclassical design, elaborate columns, frescoes and statues.
San José is also a fun place to go shopping, with a lot of different markets to explore. Whilst it is better to get your souvenirs from less touristy areas, the Mercado Central (Central Market) is a great place to grab a bite to eat or buy some good quality Costa Rican coffee beans. The central area from the Banco Central to the Plaza de la Cultura is pedestrianised and therefore is a less polluted area to mooch around in.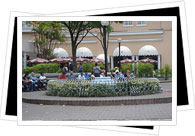 To chill out head to the Plaza de la Cultura or the Parque Nacional or go for a wander around the Barrió Amon, one of the only neighbourhoods where the original colonial architecture is still standing.
Entertainment in San José City
San José is home to the most eclectic mixture of tastes and influences in the whole country. There are masses of restaurants, where you can have international food (and lots of fast food) if you're fed up with the Costa Rican culinary staples of rice and beans.
San José also has the most diverse nightlife, with musical styles ranging from traditional salsa in Complejo Salsa 54 y Zadidas to hardcore techno at El túnel de tiempo disco. San José is also home to the National Symphony Orchestra as well as being a big fan of Disco music. What is certain though, is whatever the style of music, the party will keep going into the small hours, so get your dancing shoes ready.