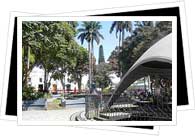 Alajuela is a modern city to the northwest of San José. Being the second largest city in the country, Alajuela is one of Costa Rica's most important urban centres. However, it has been less affected by the fast food chains and modern buildings that predominate in San José city and has managed to retain a slightly more provincial feel to it.
Both Alajuela province and city are renowned for being the birth place of Juan Santamaría, Costa Rica's national hero. Santamaría courageously gave his life in the 1856 battle against William Walker who was attempting to take control of several central american countries. Santamaría torched the hut where Walker and his army of Nicaraguan slaves were hiding so that they would come out and fight - He succeeded in the deed but died in the act. Costa Rican's all over the country now pay homage to him and you will find many things named after him in Alajuela. Follow the link for more information on Costa Rica's History.
Alajuela is particularly easy to get to as the Juan Santamaría International Airport is located only 3km from the city.
Sights in Alajuela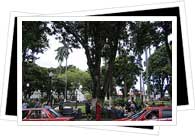 Alajuela is not an especially touristy place but the Parque Central is a nice park dotted with mango trees and a popular meeting place for locals where you can soak up some of that Alajuela ambience. If you're feeling a bit of Costa Rican pride then head to the Juan Santamaría museum or the Parque Juan Santamaría and pay your respects at the statue of this uber famous lad.
Just outside Alajuela you can relax at the Ojo de Agua, Alajuela's gorgeous hot springs, or observe some wonderfully colourful butterflies at Butterfly Farm. Follow the link for more information on what to do in Alajuela Province.
Entertainment in Alajuela
You won't go hungry in Alajuela as there are many different eateries and a large range of culinary influences. From Tex-Mex to French to traditional Costa Rican food, follow the locals or your nostrils to satisfy your hunger. The mercado central is an especially good choice for cheap, tasty food and drink.
Similarly there are loads of little, cosy bars frequented by locals which make a nice stop for an evening tipple before heading to one of Alajuela's crazy nightclubs that often feature go-go dancers and lots of reggaeton and salsa. (See the nightlife section for a rundown of popular music.)
If your trip coincides with the week of April 11th you can join in with the Batalla de Rivas fiesta. A whole week of partying to celebrate Costa Rica's victory against William Walker and the life of none other than...Juan Santamaría. Check out the Costa Rica Festivals page for more information.