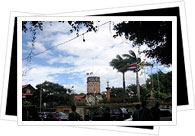 Costa Rica's northeastern province of Heredia is a feast for the senses and has a huge amount to offer a traveller who wants to experience a real slice of Costa Rican life. Although only 11km away from the capital city, Heredia replaces San José's urban sprawl with luscious green coffee plantations, glorious rainforests and towering volcanoes. Heredia city itself is a buzzing, trendy place for young people to hang out but also retains its endearing colonial charm.
The Heredia province is home to an Intel Pentium Processor factory. This has altered Costa Rica's economy dramatically and in only three years, brought in more money than the exportation of coffee and bananas put together. This has certainly had a massive impact on the province, attracting lots of people for the job opportunities and ensuring that the region is always alive with activity.
There is plenty to do in this region, from visiting national parks and nature reserves, to discovering the hidden charm of the smaller towns or joining the students and partying in Heredia city.