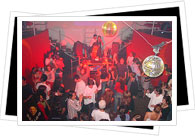 One of the best ways to enhance your understanding of Tico culture is to party with them and take advantage of the wide range of eateries and night time activities that are on offer throughout Costa Rica.
In many places the best spot to spend the evening is in the Parque Central. Most urban centres and towns have one and it is where the majority of the action takes place; people watching, having a drink and catching up with old friends. Similarly, the cinema is often another popular option and may screen anything from old classics to modern hollywood mainstream flics (normally dubbed). It is also always good to check out smaller bars in all the main towns, where often you may stumble across local bands playing live music characteristic of the region you are in.
For the most unique nightlife try and catch one of Costa Rica's festivals which take place throughout the year nationally and in the individual provinces.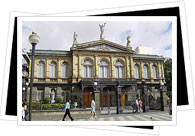 In San José City there is a huge number of theatres and theatre groups, some of which even stage performances in English. It is also home to the National Symphony Orchestra who perform regularly between April and November. Check the local paper or tourist office for listings.
There are restaurants aplenty throughout Costa Rica. In most large cities like San José, Alajuela and Heredia or beach resorts like Jacó and Flamingo Beach, you can get food from pretty much every corner of the globe. The more traditional province of Guanacaste and city of Liberia is a great area to try traditional Costa Rican food, whilst the Limón province spices it up somewhat with strong caribbean influences.
So once you've been well fed and watered it's time to let the guaro flow and get ready to party Costa Rican style! Salsa is universally popular in clubs up and down the country, as is soca and merengue. You will also come across Reggaeton, especially in the clubs of Alajuela City, Jacó beach and San José. If you have not experienced this unique style of music before it's definitely worth a try. Reggaeton is popular throughout Latin America, Spain and parts of the United States and has quite a distinctive sound which you'll either love or hate. It is a fusion of Reggae with traditional latin salsa and merengue beats plus hip-hop vocals which are often in Spanglish. It is normally accompanied by exuberant dancing involving much girating, bum wiggling and body pumping - definitely not for the faint hearted!
The buzzing club scenes in San José and Jacó beach are fit to rival any large city, with every type of club from disco, hard house and techno, to rock, pop, reggaeton and salsa. The most important thing is that you go somewhere you enjoy enough to keep dancing till the sun comes up, especially in Jacó where the party never stops.
A more chilled out option for night owls is the studenty city of Heredia or reggae-fuelled Puerto Limón, both of which have plenty of bars to choose from. But if you're looking for an all-nighter in the Limón Province then Puerto Viejo is a handsdown winner with clubs aplenty and lots of raring to go ravers looking for a good night of hardcore dancing.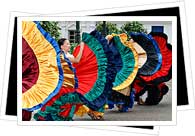 The Nicoya Peninsula is also full of slightly bohemian influenced bars, clubs and party people. Montezuma is a great place for mellow nights on the beach, whilst on the weekends Playa del Coco is rammed full with excitable Ticos who host 12 hour beach parties.
Remember that the minimum age for drinking and smoking Costa Rica is 18, purchasing alcohol and cigarettes or getting into bars and clubs may well require ID so make sure you take some with you!
Whatever your taste, Costa Rica's nightlife has enough variation to suit everyone and may also introduce you into some unknown styles where the country's unique flavour comes into its own. Happy Partying...