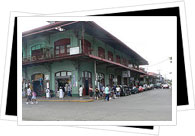 Costa Rica's Puerto Limón is the capital of the Limón province and is a busy little town with a strong Caribbean feel to it. The enormous company United Fruit exports from here and therefore the main industry is centred around bananas as opposed to tourism. This means that Puerto Limón does not make many allowances for tourists nor has it been hit by masses of souvenir shops which makes it rather endearing and enchanting. The city has not been effected by the extensive urbanisation which has hit San José, but rather it retains its own character and moves to its own rhythm.
Sights in Puerto Limón City
The Parque Vargas is where most of the action takes place and a nice place to sit and enjoy the laid back caribbean ambience of the town.
Similarly, the malecón is an extremely popular place with the locals to kick back and socialise and it is alive with music and chatter day and night.
The Museo Etnohistórico de Limón displays some interesting art and afro-caribbean artefacts to enhance your understanding of this rich culture.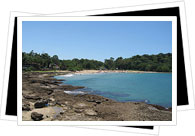 You should head to Playa Bonita to enjoy sun, sea and sand caribbean style.
There are also several national parks and wildlife reserves in the surrounding area, including Tortuguero and Cahuita. Follow the link to find out more about what to do in Limón Province.
Entertainment in Puerto Limón City
Nightlife
in Puerto Limón is very different from the rest of Costa Rica. The
clubs
and
bars
are geared towards reggae-lovers and tend to have a much more laid back vibe about them. If you get an opportunity to hear some live music you may find yourself tapping your feet to an eclectic mix of hip-hop and reggae, a characteristic music style to come out of this region. Check out the
Costa Rica music
page for more information.
Traditional Costa Rican food is still widely available here and the Mercado Central is a good place to find it. There is however, a very noticeable Caribbean presence in the food and those with a taste for spicy stuff will be able to munch on jerk chicken and curried fish to their heart's content!