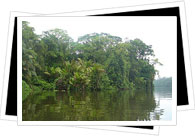 Parque Nacional Tortuguero (Limón Province)
One of the most popular parks in Costa Rica, Tortuguero is a nature lover's dream come true and allows visitors to experience the caribbean side of the country in its purest form.
Venturing deep into the jungle, you will become mesmerised by the intense colours and scents which waft past as you travel along the intricate canals past rare animals and plants. Tortuguero National Park was created in 1970 to ensure the vast man-made waterways which link the different parts of the region together were not altered in any way.
The park also protects the 22km of beach which is world famous for being the most important nesting site for turtles in the western hemisphere. This is the main reason that people tend to visit the park and it definitely makes for a memorable trip.
Between March and May the largest turtles in the world, Leatherbacks, descend on the beach nightly to lay their eggs, whilst from July to October, Green Sea and Hawksbill turtles gravitate towards the sand. Nesting generally happens nocturnally and visitors can only go on the beach at night with a guide. Many people opt for the organised tours and accomodation, however it is possible to arrange your own tour. No more than 200 people are allowed on the beach at any one time and all are incredibly respectful and quiet as they watch this spectacular sight. At times, hundreds of turtles emerge from the water together and they lay at least 80 eggs each before slumping back into the sea and drifting off. This is not something you see everyday, and whilst cameras are prohibited, the memory of this incredible sight will certainly be a lasting one.
There is also plenty more to do whilst in Tortuguero, like taking a jungle tour to observe the rich biodiversity present within the park. An expert guide will be able to point out a lot of diverse fauna from snakes and iguanas to alligators and lazy sloths lounging in the sun.
In addition you can climb the Cerro Tortuguero to get some marvellous views of the coastline and thick jungle vegetation, or you could explore the little town of Tortuguero which is characteristic of the caribbean vibe so apparent in this part of the country.