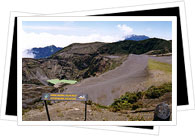 Parque Nacional Volcán Irazú (Cartago Province)
Of all the weird and wonderful landscapes that you will find in Costa Rica, the Irazú volcano will top them all. The park encloses the enormous volcano which peers majestically over the land from an enormous height of 3432 metres. This bestial mound of volcanic rock is the tallest active volcano in Costa Rica and the unvegetated, grey toned rubble which surrounds it is living proof of the destructive powers it holds.
The entire park has a weird feel to it, especially if you have become accustomed to Costa Rica's abundance of rich greens and dazzling vegetation. When in Irazú Volcano national park you could be walking on another planet, so sparse is the vegetation and wildlife that the land is practically uninhabitable, save for a few clay coloured robins, hummingbirds, tiger cats and coyotes.
The last major eruption was in 1963 and seemed to be perfectly timed with the arrival of John F. Kennedy to Costa Rica. The explosion devastated much of the land and continued to spew out ash for two years following the eruption, meaning that crops could not grow and homes were not rebuilt.
The path leading up to the mirador is only 1 km long and from there you can see Irazú's two craters; the immense active one which spans 1050m in diameter and plunges down for 300m. and the dormant, Diego de la Haya crater. This second crater measures 690m across, 100m down and is filled with an incredible colour changing lake, sometimes it is a musty green colour and sometimes a brilliant red.
The only real attraction to the park is the volcano itself as there are no proper trails to follow other than the one leading up to the craters. However, this is sufficient to fill a day and truly experience the eery, lunar landsdcapes and atmosphere of the park.
The Irazú Volcano National Park is pretty easy to get to and public transport or taxi tours are available - A daily bus from San José city stops in Cartago city and takes between 1hour and 1h30 to get to the park.