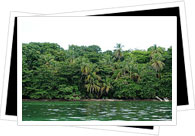 Parque Nacional Cahuita (Limón Province)
This little caribbean gem of a national park is quite distinct from Costa Rica's other parks. It covers just under 11sq km and the main focus of the park is along the coastline.
Cahuita National Park contains 24sq km of coral reef which provides hours of entertainment for snorkellers. The reef is easily accesible, lying only 500m from the shore which makes it a good place for all visitors, young and old. The stunning white sand beach backed by lush tropical forest make this park a caribbean dream and one of the most popular in Costa Rica.
The coral reef contains 500 species of fish and 35 different types of coral. Despite being badly damaged in the earthquake of 1991, the reef is still full of wondrous marine life to spy on with your snorkle or cruise over on a glass bottomed boat. There are also two mysterious shipwrecks not far from the shore - although nobody is certain, legend has it that they belonged to Spanish and French pirates. You'll have to decide for yourself!
In addition to the beach, Cahuita has one trail to follow which is very easy, making this park especially family friendly. The track takes you through caribbean rainforest and you can spot proud kingfishers plus lots of different exotic animals like white faced monkeys, porcupines, racoons, sloths and even snakes.
Cahuita National Park is exceptionally easy to reach with buses leaving Puerto Limón every couple of hours and even four direct buses to San José city (which takes around 4hours).