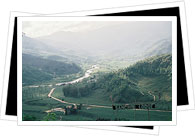 Costa Rica's Cartago is an interesting province located in the central valley, to the south east of San José. The city of Cartago was originally the capital city and was founded in 1563, making it on eof the oldest Spanish settlements in Costa Rica. It remained as the capital for almost three centuries until 1823 when the nerve centre was moved to San José.
Cartago's historical background means it was once a very wealthy region, bursting with fancy colonial architecture and stuffed with riches. However, after numerous earthquakes and the erruption of the Irazú volcano in 1723, it lost a lot of its glamour and was never reconstructed with the same tenderness and care. Nonetheless, Cartago is an important province in Costa Rica's economy, especially for the huge quantities of coffee that it produces.
From religious monuments to national parks, there is plenty to see and do whilst in Cartago.