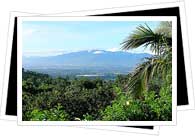 Costa Rica's Alajuela province is located in the north central valley and houses almost 19% of the Tico population. There is plenty to see in this beautiful region including three national parks, one nature reserve plus there is the city of Alajuela to explore... you certainly won't get bored!
The central valley is made up of forests, volcanoes, rivers, waterfalls, cattle ranches, sugar and coffee plantations and a strong dedication to the Costa Rican motto 'PURA VIDA' (pure life). Alajuela is famous for being the hometown of Juan Santamaría who played an important role in Costa Rica's history. When William Walker attempted to seize control of several central american countries, Costa Rica's president put together a makeshift army of militia and townspeople. It was Santamaría who torched the wooden hut in which the enemy were hiding so that they would come out. Despite being shot repeatedly he continued to run and finished the deed before dying. He was forgotten during 40 years but has now become a Costa Rican icon, whose name is most apparent in the Alajuela region where all sorts of museums, statues and restaurants pay homage to this courageous Alajuelan chap.
The province of Alajuela is divided up into fifteen cantons; Alajuela, Grecia, Orotina, Upal, San Ramón, San Mateo, San Carlos, Los Chiles, Atenas, Naranjo, Alfaro Ruíz, Guatuso, Palmores, Poás and Valverde Vega.