Alajuela Highlights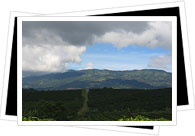 Alajuela Province Highlights
Alajuela City
Costa Rica's second biggest city and a lively place to spend a few days. Its proximity to San José makes it an economic and modern centre. However, unlike the country's capital, Alajuela still manages to retain a small town feel, loyal to its traditional roots. There are some lovely parks to relax in and museums to visit, many of which are named after Juan Santamaría. If you are in Alajuela for April 11th you can enjoy the extravagant celebrations of the Batalla de Rivas which commemorates the life of this national hero. For more information click on the Alajuela City link.
La Fortuna de San Carlos
This is a tiny town to the west of Alajuela which serves as a convenient gateway to the Arenal Volcano National Park. While much of the tranquility that used to make this spot so enchanting has been trampled on by the huge tourist industry that now functions from the town, it is still a delightful place to spend a few days. There are lots of hotels (many of which have views of the active, lava spitting volcano) and a plethora of guided tours to the volcano. La Fortuna waterfall is also an unforgettable site as water tumbles down from a height of 70 metres into the crystal pool below, and visiting one of the many thermal springs which surround the town is a great way to unwind.
Poás Volcano National Park
One of the main attractions to the region, this national park is only 37km north of Alajuela city and access is very easy. The volcano itself last erupted in 1953 and before that in 1910 when it spewed 640,000 tonnes of ash over Alajuela. The active crater emits sulphurous gases and is filled with pale turquoise water. The national park is also a good option for the less sporty of you as the trails offer beautiful views of abundant landscapes without being too challenging. Alajuela province is also home to Juan Castro Blanco National Park and Arenal Volcano National Park.
Caño Negro Wildlife Reserve
This is a less touristy option and well worth a trip. The best place to enter the reserve is from the canton of Los Chiles. Here you will see a really diverse range of Costa Rican wildlife, however, most people are attracted to see the migratory birds from December onwards.
Sarchí
Is a small town 30 km northwest of Alajuela city and buses leave every half an hour so it is very simple to get there. Whilst the town is not the most beautiful in the world, it is the heart of Costa Rica's arts and crafts production and the best place to go shopping for souvenirs or furniture.
Butterfly Farm and Zoo Ave
These are two great places to see the incredible wildlife of Costa Rica. On a sunny day the butterfly farm offers truly beautiful views and makes a lovely day trip. The Zoo Ave bird sanctuary and zoo houses the largest aviary in Central America with more than 80 species of Costa Rica's brightly coloured birds.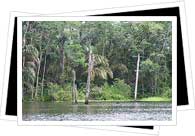 La Paz Waterfall Gardens
With 5 waterfalls this is an absolutely beautiful place to enjoy Costa Rica's rainforest, flora and fauna. If you are feeling plush then why not book into the Peace Lodge? Beautifully designed luxury rooms to prolong your stay in this natural paradise.
Palmares
This tiny town is worth visiting if you're passing by during the first 10 days of January when thousands of people flock to enjoy the the Fiestas de Palmares. See the section on Costa Rican festivals for more information.