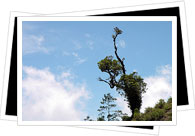 Parque Nacional Juan Castro Blanco (Alajuela Province)
Covering 143 sq km, the Juan Castro Blanco National Park is made up of bits of land owned by different families and therefore is not open to the public in its entirety. It is an undeveloped place which does not attract many tourists, however, this does make for a very memorable trip if you fancy braving the wilderness in a tent for a night or two. It is advisable to hire a guide to come with you.
The park contains three extinct volcanoes; Porvenir, Platanar and Viejo and also marks the starting point for five rivers; Platanar, Toro, Tres Amigos, La Vieja and Aguas Zarcas. There is some truly beautiful scenery and the opportunity to spot wildlife that in other parks may be hiding from the influx of visitors.