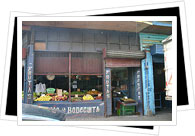 Shopping in Costa Rica can be a fun experience and if you go to the right places, you can get a good bargain and take home some really special reminders of your trip to the tropical paradise.
Typical souvenirs tend to be artwork by local artists and often from indigineous populations. Most keepsakes are ceramics or woodcraft normally carefully painted in bright colours. Jewelery is also popular and can be made of anything from wood to gold. People also like to pick up some Costa Rican coffee or a bottle of potent Guaro. There are also a lot of typical touristy souvenirs like tee-shirts, hammacs and cigars - their authenticity however, is questionnable.
Most large towns have a Mercado Central which is a cheap (but quite tourist orientated) place to pick up some typical souvenirs or local food.
Sarchí in the Alajuela Province is by far the best place to do your shopping. While it is heavily visited by tourists (being only a 30min bus ride from Alajuela city), there is a reason for the popularity of this little town. Over 200 artists and craftsmen have their workshops there so it is the best stocked place to buy pressies before the commercial mark up has been added. In Sarchí you can buy practically anything wooden from tiny trinkets and pieces of jewelery to impressive pieces of furniture and even an ox-cart if your heart so desires it.
It's advisable to avoid doing your shopping in the very touristed coastal areas if you are looking for an authentic souvenir as the prices are often extortionate and you may well be taking something home that's been imported from China.
San José city makes for a better place to go shopping and has just about everything you could want for from big (pricey) shopping centres to voguish boutiques and interesting little shops. Better value than the Mercado Central or La Casona is the Mercado Nacional de Artesanía (Calle 22,Avenida 2) which is geared towards tourists but has a really decent range of well priced stock.
For art head to La Buchaca (centro comercial El Pueblo) or Galería Namu (avenida 7, between calle5 and 7). Work by Deirdre Hyde, a British artist whose work is found all over the country can be found in the Tienda de la Naturaleza (Avenida 0).
For expensive but brilliant quality Costa Rican pre-colombian style gold jewelery, take a look in Suraska (Calle 5, esquina 3).