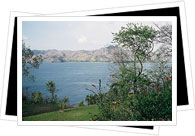 Costa Rica offers the budding traveller an unrivalled paradise to explore. Within its 19,730 square miles Costa Rica caters for all kinds of tastes and occasions, appealing to adventure travellers, sunworshippers, ecotourists and honeymooners.
Situated between Panama and Nicaragua, Costa Rica benefits from the Caribbean Sea, which offers diverse wildlife, ecosystems and beaches; and the Pacific Ocean, renowned for great surfing. Costa Rica is divided into 7 provinces; San José, Alajuela, Cartago, Heredia, Guanacaste, Puntarenas and Limón. Within these areas you will find 8 Biological Reserves, 6 Wildlife Refuges, and 20 National Parks. These include Costa Rica's highest volcano, Irazú, the cloud forests of Volcán Poás, idyllic Manuel Antonio and Tortuguero, home to 3 species of endangered turtle.
With a population of 4,133,884 Costa Rica's charm extends far beyond its natural beauty, but is also characterised by its warm and friendly inhabitants, known as 'Ticos'. Ticos are famed for being hardworking and representative of Costa Rica's position as the oldest democracy in Central America.
Whilst much of the architecture and the use of Spanish as the official language reflect a strong European influence, Costa Rica's indigenous roots mean that folk music has an African vibe. Traditional cuisine is an interesting product of Costa Rica's cultural diversity, where North and South American flavours meet Spanish and Caribbean culinary styles, producing a range of mouthwatering dishes.
Explore and enjoy this Costa Rica guide to get a better taste of the endless possibilities which this country has to offer, and we hope you will agree that it is a destination hotspot not to be missed!