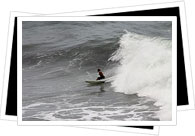 Costa Rica is one of the most popular surfing destinations in the world and the beauty of it is that along the Pacific and Caribbean coasts, you can find the perfect wave for wary beginners or super-skilled experts. This makes Costa Rica the ideal place to learn, practice and improve your surfing expertise and above all, to enjoy this great sport in unbeatable surroundings.
One of the best ways to get the most out of Costa Rica's surf is to take one of the numerous surfing tours that are on offer. Catered for all different abilities these tours can accomodate large and small groups, couples and even families and guarantee to search out the best breaks for your level. This may well be a less stressful and more economical approach to surfing your way around Costa Rica.
Similarly in the most renowned surf areas, hotels and hostels often rent out surf boards and offer classes for all different levels.
Beginners should head to the beaches at Manuel Antonio (Puntarenas Province) as the waves are not too rowdy and the atmosphere is calm so it definitely makes a good starting point.
Tamarindo (Guanacaste Province) and Jacó (Puntarenas Province) are both highly commercialised and popular beaches which have a good range of breaks and year-round surf. Fit to entertain beginners, intermediate and expert surfers these beaches definitely make a good choice if you are with a mixed ability group. They are also extremely well facilitated with surf shops, accomodation and numerous other activities. Plus there's a crazy club scene to enjoy once you've finished on the beach.
For those more expert surfers, from Tamarindo you can easily get to Playa Langosta or catch a boat to surf the infamous reef breaks of Roca Bruja (Witches Rock) or Ollie's Point at Playa Naranjo, located in the Santa Rosa National Park.
Nearby Playa Grande, Playa Avellanas, Playa Negra and Playa Nosara are a stone's throw from Tamarindo but are a lot more remote if you don't fancy facing the crowds. Negra is recommended for advanced surfers only and Nosara in particular is great for year round surf and constant swells.
From Jacó, those searching a stronger wave should get over to nearby Playa Hermosa which is a bit less crowded but is only recommended for highly advanced surfers.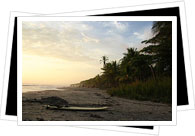 Intermediate and experienced surfers should head to the newly fashionable Mal País and Santa Teresa. At the moment this is a gorgeous, unspoilt section of coastline in the Puntarenas province with a really relaxed atmosphere. Whilst plans for urbanization could pull in more crowds in years to come, it will still be an ideal spot with consistent breaks.
Puerto Viejo in the Limón Province is a surfing mecca on the caribbean coast and is uncommercialised and chilled out during the day, but at night it transforms into a bustling party town. Expert surfers can brave Costa Rica's heaviest wave, Salsa Brava and intermediates should enjoy the breaks at Playa Cocles.