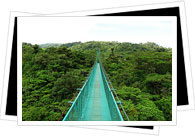 Many tour operators put together packages which combine adventure sports with wildlife watching and visits to National Parks. If you fancy trying a bit of everything and getting it organised by people in the know then try some Costa Rican travel agencies, many of whom can set you up with Rock Climbing, Handgliding and Paragliding trips.
Hiking
There are endless possibilities for intrepid adventurers in Costa Rica and treks can range from one day to several days depending on your stamina! Costa Rica's National Parks are the best places to explore in beautiful surroundings - here are some of the best destinations for hikers:
Chirripó National Park - Is the most testing trek in the country. The main event is the two day hike up 3820m on Cerro Chirripó, Costa Rica's highest peak. After an 8 hour ascent on day one, the night is spent in a mountainside hostel (advanced booking required) and hikers usually attempt to make it to the peak before sunrise on the second day. There are also plenty of other hikes of varying difficulty around the surrounding Talamanca mountain range. If you fancy going more hardcore, you can extend the Chirripó trek to four days and tackle the Cerro Urán (3,600m) first.
Rincón de la Vieja National Park has a challenging day-long hike up the volcano of the same name. It is a touch ascent and the peak lies at 1895m above sea level. You can also spend a few days hiking around the Guanacaste mountain range within the park.
Guanacaste National Park - Home to two volcanoes, Orosí (1487m) and Cacao (1659m) which make for excellent treks amongst interesting flora and fauna. However, all hikers must contract a guide to go with them.
In the Puntarenas Province, both the Monteverde Cloud Reserve and the Santa Elena Reserve make for an unforgettable few days hiking through different ecosystems.
Braulio Carrillo National Park is the perfect place for experienced hikers to explore. Note that there are not many facilities and you need to bring your own equipment, but if you are confident then there are rugged cliffs and deep canyons to explore, three dormant volcanoes and the enormous Barva Volcano which reaches 2900m and takes five hours to climb.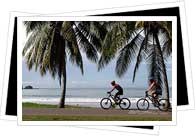 Mountain Biking
Budding cyclists looking for a thrill should head to the white knuckle ride that is Cerro de la Muerte, in the San José Province. Cycling this stretch of the panamerican highway is a truly exhilarating experience, not to be missed... if you're brave enough!
There are also ample opportunities for mountain biking around Lake Arenal in the Alajuela Province, where the trails are not so frightening but make for an interesting few days exploration on your bike.
The Orosi Valley in the Cartago Province is a good place to head for varied tracks and landscape as is the Oso Peninsula in the South Pacific (Puntarenas Province).
Roads in Costa Rica are often unpaved and badly maintained with many potholes, so bikers should take care at all times.