Parque Nacional Rincón de la Vieja (Guanacaste Province)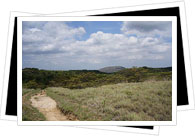 A stunning national park created in 1973 to protect the diverse landscapes, habitats and the 32 rivers which it houses. Rincón de la Vieja National Park covers over 34,000 acres and reaches high altitudes as it encompasses the Guanacaste mountain range and two volcanoes. The active Rincón de la Vieja Volcano (last eruption 1998) is the main attraction to the park. The trek to the vapour emitting crater at 1895m above sea level is a strenuous day-long expedition which requires dedication but is very rewarding. The dormant sister volcano, Santa María, reaches an even higher altitude.
The landscape and wildlife is so interesting because of the changes in altitude found within the park, from deciduous to tropical dry forests, thermal mud pools to fresh water lakes, you can swim, hike and animal spot to your heart's content. You will see anything from coatis to toucans in Rincón de la Vieja and the glittering, copper infused La Cangreja waterfall is an unforgettable sight.
This park is less touristy than many of the others because it is harder to reach. The best way to get there is by car, see the section on car rental in Costa Rica for more information.