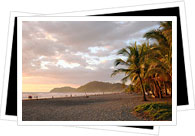 With over 1250km of coastline, Costa Rica has beaches aplenty with activities and landscapes to suit all kinds of tastes. Many people come to Costa Rica just for the white sand tropical beaches which are definitely one sure attraction to the country. Nevertheless, the other beaches which come in all shapes and sizes with sand ranging from black to grey to pink, are also well worth exploring. From the wild and rugged coastlines hidden away in national parks to the built up and carefully maintained resorts, Costa Rica's beaches offer endless excitement and adventure!
Read our beach hotlist to make sure you get the best from Costa Rica's beautiful coastline:
Jacó Beach - Extremely popular with Ticos and foreigners, Jacó is a pumping place with nonstop nightlife and great surf in the Puntarenas province. It is not a good choice if you're looking for a quiet holiday but if you're up for partying then you're in for a treat!
Playa Hermoso - This is still fairly built up but quieter than Jacó. The waves come thick and fast for surfers on this beach in Puntarenas.
Manuel Antonio National Park - The beaches in this Puntarenas national park are to die for. Tranquil, white sand and glorious sunsets, the perfect place to soak up the sun in a tropical paradise before exploring the rest of the national park.
At the Puntarenas end of the Nicoya Peninsula there are endless beaches to enjoy. Montezuma has been a favourite for many years and despite its popularity it is still just as captivating. The bohemian vibe is addictive and even though it is mainly populated by expats, the atmosphere is incredible, the waterfalls dazzling and the Cabo Blanco Nature Reserve is just a stone's throw away.
Nearby Mal País and Santa Teresa beaches are great spots for surfers with a young, trendy ambience and unspoilt coastlines.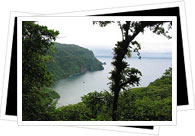 Coco Island is a 36 hour boat ride away but offers a beautiful beach and incredible scuba diving.
In the Guanacaste Province of the Nicoya Peninsula there are more great beaches including uber famous Playa Tamarindo, home to elite holiday makers, designer shops, high class restaurants and a chic club scene. Surfing, golf, sailing and sport fishing are all popular activities here.
Playa Flamingo (Flamingo Beach) - Home to a busy beach resort scene, Flamingo Beach offers endless watersports, scuba diving and deep sea diving to fashionable and wealthy foreigners.
Playa Grande - A great beach for nature lovers as this is one of the most important beaches for Leatherback turtle nesting.
Playa del Coco - This gorgeous white sand beach is laden with beach bars which burst into life at the weekends and the beach is rammed full with young and lively Ticos. During the week it is more chilled out. Whilst the beach itself is not ideal for surfing or swimming, expert surfers come here to get to Roca Bruja (Witches Rock) and Ollie's point.
Playa Brasilito - This is ideal for those of you searching a relaxed and undeveloped beach. The sand is grey but the atmosphere is laid back and the hoards of tourists tend to miss this beach out, so you can get a far more 'Costa Rican' experience here.
Santa Rosa National Park - For the rugged and ready traveller looking for a slice of raw, untouched Costa Rican coastline, the beaches in this national park are for you. There isn't very easy access to the beaches and the facilities are few and far between for campers but you will have a rewarding and very special experience if you are prepared to rough it a bit.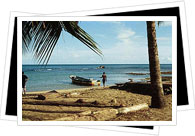 Puerto Viejo - This is the place to be on the Caribbean coast in Limón province if you are looking for a nice mixture of thiving nightlife and perfect beaches like Playa Cocles to swim, scuba dive and snorkle on. The legendary Salsa Brava attracts expert surfers from around the globe.
Tortuguero National Park - Another great stop for naturalists, the beach in this park is famous for the nesting of Greensea, Hawksbill and Leatherback turtles.
Manzanillo - This wonderful beach is ideal if you are looking for something untouched and natural. The area is protected so this white sand beach has not been hit by urbanization or tourist shops. Here you can relax in the lush surroundings, surf, snorkle and explore the nearby forest.