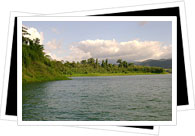 In addition to its world famous reputation as a surfing mecca, Costa Rica's coastline and inland rivers, canals and lakes are also perfect for embarking on a whole host of other exciting watersports. Here we've summarised the top activities to make your trip to Costa Rica even more unforgettable!
Wind Surfing
This is extremely popular on the beautiful inland lake Arenal in the Alajuela province, where you get a fine wind and spectacular vistas with the Arenal volcano smoking in the background. The beaches down the Pacific coast are also popular windsurfing destinations and all the equipment is available to rent in the big resorts at the beaches of Jacó and Flamingo.
Scuba Diving and Snorkeling
Costa Rica is rich in diverse marine life and makes an ideal destination for under the sea exploration. Cahuita National Park contains the country's largest coral reef and makes a really interesting dive. Further along the Caribbean coast, Puerto Viejo also has good diving and snorkeling as does Uvita Island, located just 1km off the coast.
The beaches along the Nicoya Peninsula are also perfect, in particular Playa del Coco is a popular spot for both scuba and deep sea diving. Here you can spot all kinds of marine life from manta rays and angel fish to dolphins. Flamingo Beach also has a very good dive centre from which you can take tours and hire equipment. For truly experienced scuba divers, it's worth finding your sea legs and taking the 36 hour boat trip from the Puntarenas Province on the pacific coast to the Isla del Coco where you will be amazed by white tip sharks, 300 species of fish and three species of dolphin.
White Water Rafting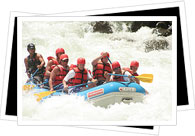 Costa Rica is a perfect place to have your first rafting experience or for experienced rafters to search out some really rough rapids. The most popular spots are in the Turrialba region of the central valley in the Cartago Province. Here the rivers Reventazón and Pacuore offer great year round rafting.
Kayaking
Kayaking is the perfect way to see some of Costa Rica's rarest wildlife. On the Caribbean coast, the intricate canal system in Tortuguero National Park is a marvellous place to explore in your kayak. The Manuel Antonio National Park in Puntarenas is another popular choice, as is Golfito beach on the beautiful Oso Peninsula.
Sport Fishing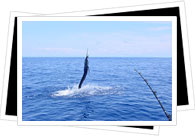 Sport fishing is extremely popular in Costa Rica and there is a nice relaxed and tranquil atmosphere for it too, however, there are preoccupations as to controlling the levels of sport fishing. Dedicated fishers can catch a huge number of different fish, including snappers, giant marlin and tuna to name but a few. Cahuita National Park is an ideal spot for beginners and Bahía Drake is another hotspot, famous for having an incredible range of fish. Different tour operators can help you get to the best spots, like those leaving from Flamingo and Tamarindo Beach in the Guanacaste Province or Bahía Drake in Puntarenas.