Guanacaste Highlights
Guanacaste Province Highlights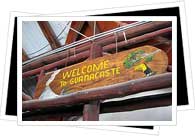 Liberia city
This is the capital of the Guanacaste province and a charming little place to spend a few days wondering around the pretty colonial buildings and soaking up the atmosphere. It is also ideally located for taking excursions and exploring the surrounding areas. Check out our Liberia City Guide for more information.
Beaches
Beaches are particularly hot in Guanacaste, especially those in the Nicoya Peninsula. There is pretty much a bit of everything depending on your taste. The infamous Tamarindo Beach is the best in the region for surfing, whilst the resort of Flamingo Beach is perfect if you want to be surrounded by chic bars, holiday makers and endless watersports. For a quieter option head to Nosara, a relatively untouched and very beautiful spot to catch some rays. Animal lovers may want to head to Playa Grande for some marine turtle nesting. Check out the relevant section for more information on Costa Rica's beaches.
Nicoya
Nicoya is another pretty town that tourists often miss out on their way to the beaches. Take some time out to relax in the Parque central or just stroll around the delicate and unpretentious streets. Whilst only traces of the original colonial architecture exist today, this is still one of the most delightful towns in the region.
Rincón de la Vieja
This striking area cannot fail to impress even the most travelled visitor. With beaches, waterfalls, four volcanoes (Orosi, Santa Maria, Miravalles and Rincón de la Vieja) and four national parks it is a veritable feast for nature lovers.
Rincón de la Vieja National Park
The main attraction to this national park is the volcano of the same name which offers a spectacular climb in to the clouds. There is also varied vegetation, bubbling mud pots and interesting wildlife.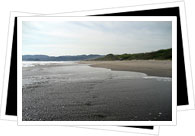 Santa Rosa National Park
One of Costa Rica's most popular and oldest national parks, Santa Rosa is also one of the last dry tropical forests in the world. The park contains numerous different habitations including evergreen forests, mangrove swamps and savannahs. There are also some beautiful untouched beaches to be discovered and budding surfers flock to test the waves at Roca Bruja (Witches Rock) and Ollie's point.
Guanacaste National Park
With trails that take you through different ecosystems, great birdwatching and hiking Guanacaste National Park makes for a very enjoyable trip. It contains the Orosí and Cacao volcanoes, several research centres and a plethora of animals, including 140 species of mammal.Click on the link for more information about Costa Rica's National Parks.