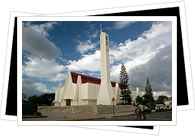 Costa Rica's Liberia is the capital of the Guanacaste Province, the most traditional region in the whole country. This province is mainly visited for its dazzling beaches and ever-expanding holiday resorts. However, it is also famous for cowboy ranches, cattle rearing and typical Costa Rican food. Liberia embodies a classic Costa Rica, unchanged by the arrival of mass tourism and urbanization and its gleaming white washed houses and pretty plazas have a refreshingly real, provincial feel to them.
Liberia is also a very convenient place to start or end you Costa Rican adventure as the Daniel Oduber Quirós airport is only 12km to the east of the city.
Sights in Liberia City
Parque Central - A really attractive park to get some shade from the midday sun and watch daily Tico life.
Liberia is home to two very different churches; La Iglesia de la Agonía is a beaten and battered old church, which has hung on despite numerous earthquakes and whose peeling yellow paintwork is rather endearing. La Iglesia de la Inmaculada Concepción de María on the other hand, is an extremely modern building which sticks out like a sore thumb amongst its traditional surroundings, but somehow works to complement the cityscape.
Museo de Sabanero - Pays homage to the long cowboy tradition in Guanacaste.
Calle Real - This street has the best maintained colonial buildings and makes for a pleasant stroll.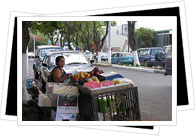 Liberia city is also a perfectly located gateway to enjoying all the beaches and national parks of the beautiful Guanacaste Province.
Entertainment in Liberia City
Liberia has a wide selection of restaurants and is one of the best places in Costa Rica to sample traditional Tico food like 'gallo pinto' and 'casado'. The cowboy influence has also given rise to a more hearty type of cuisine and filling soups or Guanacastecan breakfasts are definitely worth trying. 'Natilla' is especially popular and consists of sour cream with eggs/ gallo pinto and tortilla.
In the evenings, Las Tijanas is undoubtedly the most popular bar and sometimes plays live music, whilst Kurú Kurú is a buzzing salsa club. The cinema is also a popular choice on the weekend, as is hanging out in the Parque Central.