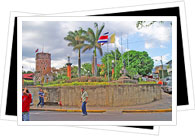 Heredia city is one of the most attractive in Costa Rica. Located only 11km north of San José, it can easily be reached on a day trip or used as a base for exploring the surrounding national parks and coffee plantations of Heredia Province.
Founded in 1706, Heredia is a splendid example of colonial Costa Rica, much of the colonial architecture has been well preserved and survived numerous earthquakes. Heredia city embodies a very different world from that of city of San José. The smoggy haze of pollution, development and change found in Costa Rica's capital is superseded by the dramatic volcanic landscape which surrounds the city, and the traditional charm found within it.
Sights in Heredia City
The Parque Central is where much of the action takes place and is a nice place to sit and soak up the atmosphere of the city.
La Basílica de la Inmacualda Concepción can be found here too, and whilst the building is not especially decorative, its sturdy design has allowed it to outlive many other Costa Rican buildings despite mutliple earthquakes, since its construction in 1797.
El Fortín - Now the most identifiable symbol of Heredia city, el Fortín is the last remains of an eighteenth century Spanish colonial fortress.
Museo Zoo Marino - This impressive marine life museum is a must for all our aquatic friends and contains 2,000 marine life species.
La Casa de la Cultura - This attractive colonial house is the best place to get a taste for the artwork from the local areas.
Take a walk - One of the nicest things in Heredia is the atmosphere and flavour of the city. This cannot be contained in one specific monument, museum or plaza, but can be found by just wandering around the pretty streets, especially those surrounding the Parque central.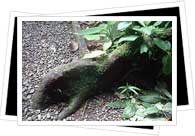 Heredia City is also a gateway to the wonderful Braulio Carillo National Park, home to the Barva Volcano and a whole host of beautiful landscapes, flora and fauna.
Entertainment in Heredia City
To the east of the city you will find the National University which attracts a young and fun-loving crowd to Heredia. There are restaurants aplenty in the city, many of which have a distinctly bohemian feel owing to the large trendy student population. The city is particularly well stocked on health food and vegetarian restaurants but there is also a fair bit of traditional
Costa Rican grub
all of which is good value and excellent quality. Head to the
Mercado Central
for cheap eats and a vast array of brightly coloured exotic fruit and veg.
Clubs and bars are not as plentiful as restaurants in Heredia and most go in for crowd pleasing salsa beats. However, less choice means more people, a better atmosphere and a bigger party so get yourself to La Choza or Océanos for a quick drink before salsa-ing the night away in Miraflores Disco y Taberna.