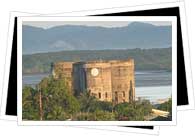 Costa Rica's Puntarenas province is comprised of an unusual strip which encapsulates about three quarters of the Pacific coast, the southernmost section of the Nicoya Peninsula and Coco Island.
The geographical location of the region means it is especially good for beaches, sunbathing, surfing and...more beaches! And these beaches are truly pristine and beautiful, especially those on the Nicoya Peninsula. There is a fair amount of urbanisation going on in Costa Rica's coastline and beach resorts like Jacó offer incredible nightlife and a buzzy atmosphere amongst the highrises. However, there are also a whole host of unspoilt beaches which embody the picture postcard image of Costa Rica as a tropical paradise.
Puntarenas province also has a huge number of National Parks and Nature Reserves, including the infamous Parque Nacional Manuel Antonio and the highly respected Monteverde Cloud Forest Reserve to name but a few.
As one of Costa Rica's largest provinces, Puntarenas has very diverse ecological make up. This variation allows for really beautiful landscapes and interesting wildlife.