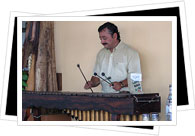 Music and dance in Costa Rica are varied and representative of the many different cultural influences that make up this eclectic country. Whilst Costa Rica itself has been fairly slow on creating its own musical styles, between the different provinces there are many artistic forms which form a patchwork quilt of Costa Rica's history.
What cannot be doubted is that Ticos love to dance, despite their cool, calm approach to other aspects of their lives, when it comes to dancing they are passionate, fiery and flirtatious. If music is your thing then be sure to plan your trip with Costa Rica's festivals in mind as these are the best opportunities to experience the music of a particular region in its purest and most uninhibited form.
In the city of San José you will find a very diverse music scene. As the capital city and trend setter for Costa Rica's nightlife, San José attracts a young and fashionable crowd to its many clubs. As well as British and American rock and pop, disco music is still very much alive and well in Costa Rica, so much so that you can shake your thang to Saturday night fever, any day of the week!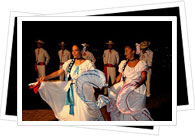 Traditional folk music has its roots in the Guanacaste province. From here much of Costa Rica's folk traditions have originated and are still carefully maintained today, including the Punto Guanacasteo, Costa Rica's National folk dance. This is an upbeat dance with lots of rhythmical foot stomping and an entertaining rhyming verse. Here you will still see many of the traditional instruments in use, including maracas, marimbas, chirimia (a wind instrument similar to the oboe), and the quijongo (a one string instrument). These instruments play the accompaniments for long established dances like la danza del sol (dance of the sun) and la danza de la luna (dance of the moon).
Alternatively, if you travel down the caribbean coast and in particular through the province of Limón, you will find a distinctly different flavour to the music. There has been an especially large African population in this region since the seventeenth century and therefore a long tradition of Afro-Caribbean music. Much is based on a sinkit rhythm and follows a Calypso or Reggae beat. Drums and banjos are more characteristic instruments of the music from this zone. This is a good place to pick up CD's of up and coming bands as in recent years Limón has been recognised as a place of much musical talent. New bands tend to fuse together afro-caribbean beats with hip hop to create a fresh, original sound that'll get you dancing!
In addition to these musical styles, 1970 saw the founding of the National Symphony Orchestra and since then Costa Rica's classical music scene has begun to thrive with concerts every thursday, friday and saturday during the eight month season (April to November). You will also find other traditional Latin American influenced music throughout all of Costa Rica's seven provinces; from soca to salsa, merengue to cumbia you are guaranteed to find something to suit your mood in Costa Rica!