Puntarenas Province Highlights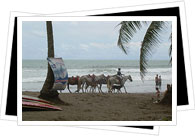 There is lots of fun to be had on some of the most famous
beaches in Costa Rica
.
Jacó Beach
(or Playa Jacó) is hugely popular with foreigners and Ticos alike making a quick weekend getaway from San José. Year round surf and an untiring club scene attract a young crowd looking for sun, sea and fun.
Playa Hermoso
is another beach famous for its incredible surf, less built up than Jacó, this is a nice place to kick back and enjoy the enormous waves.
Puntarenas town
This is a very traditional port town which is often slated and missed off the traveller's to-do list. Whilst there is not a huge amount to see here, it is an unaffected place to experience some real Costa Rican life and join the locals. It is also an ideal spot from which to take excursions and explore the surrounding province of Puntarenas. Take the ferry across to Paquera and from there you can enjoy the dazzling coastline of the Nicoya Peninsula.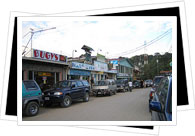 Monteverde Town
This beautiful little town is extremely unique and makes an interesting contrast to the urbanized beach resorts that are becoming more common along the coastline. Monteverde was founded in 1951 by a group of North American Quakers who had just been released from jail for dodging the Korean war draft. Monteverde was established as a haven for peace and tranquility and it remains just as wonderful today, having resisted modernisation and retained its organic ambience. The private Monteverde Cloud Forest Reserve is an absolutely stunning setting from which you can enjoy 10,500 hectares of carefullly maintained rainforest. There are a range of different trails, canopy tours and some really spectacular wildlife. This was once the home of the very rare golden toad which has been driven to extinction in the last ten years due to climate change. Monteverde is also a particularly good place to catch a glimpse of Costa Rica's national bird, the Quetzal.
Santa Elena Reserve
The Santa Elena Reserve is also nearby and is equally as beautiful but a lot less touristy. Similarly, the Sendero Tranquilo Reserve is a more pricey option but offers guided tours in groups of six people or less.
Carara National Park
This reserve makes an especially intersting trip as it falls on the transitional ground between dry forests and rain forests. This is a wonderfully unique experience and is definitely worth a visit. As well as the interesting foliage, there are many different animals to be spotted here.
Manuel Antonio National Park
Manuel Antonio National Park is also found in the Puntarenas province and is one of the most popular parks in Costa Rica. Here you can find rainforests, beaches and coral reefs in abundance. Similarly, the Corcovado National Park is an ecological delight with thirteen diiferent ecosystems and a huge colony of scarlet macaws. It is very very wet, so bring your waterproofs and brollies! There are stunning waterfalls and the only old growth rain forests on the Central American Pacific coast. Click on the link for more information on Costa Rica's National Parks.
Nicoya Peninsula
This is probably the most beautiful area of Costa Rica and certainly the most popular tourist destination. The majority of the peninsula is included in the province of Guanacaste, however, the southernmost point belongs to Puntarenas. From the town of Puntarenas you can cross the gulf of Nicoya in an hour, boats leave frequently and the trip costs around US$35 but is definitely money well spent. The beaches in general are more idyllic and untouched than those across the gulf and there are watersports aplenty as well as opulent dense forests for hikers and horseriders to ramble through.
Montezuma
Montezuma is a beautiful place to chill out and relax in. This was Costa Rica's first tourist destination and is filled with born again expat hippies, drawn in by the free and easy way of life. Good food, good people, bongos and beach parties... you may not come home again...
Santa Teresa
Santa Teresa is a hub of excitement and a trendy hotspot for cool surfers and dedicated sunbathers alike. Nearby Mal País is famous for its amazing waves and beautiful beach. These last two places are still relatively untouched and picture postcard-esque, however, there are warning signs of the beginnings of urbanization like that of Playas Jacó and Flamingo so the future is uncertain for this little haven of unspoilt coastline.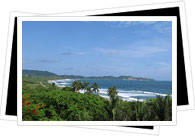 Cabo Blanco Nature Reserve
This is a truly beautiful spot, especially for all you bird lovers, as Cabo Blanco protects sea birds and is the nesting site for over 120 species of bird. This was Costa Rica's first ever national park and it contains beaches, nature trails and hikes for all abilities, as well as unusual animals from long tailed coatis to howler monkeys.
Coco Island
Although it lies 550km off the Pacific coast, Coco Island belongs to the Puntarenas province. It is a 36 hour boat trip but is an extremely rewarding for experienced scuba divers.This is one of the only places where you can glide past white tip sharks and dive amongst coral reefs and over 300 species of fish. The island is also home to a nature reserve which contains unique flora and fauna, 97 species of bird and many dazzling waterfalls to scramble around.