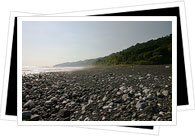 Parque Nacional Corcovado (Puntarenas Province)
This incredible enclosure of natural beauty is one of the most diverse, interesting and aesthetically pleasing in the world. Corcovado National Park is located on southwestern most point of the Oso Peninsula and was created in 1975 to protect the region from gold mining. This stretch of land was an island millions of years ago, until it linked to the Central American mainland. This means that the peninsula has fused together vegetation and wildlife from different areas, creating an incredible mixture and housing the entire tropical insect ecosystem between Panama and Mexico.
Everybody who comes to the park is blown away by the stunning landscapes which stretch out ahead of them, from the 23 miles of rugged coastline, to the lagoons and jolillo palm forests. Corcovado National Park contains 13 different ecosystems and the wide selection of varied trails lead you from one extreme to another in a matter of moments - it really is a feast for the senses! Spanning over 410sq km, Corcovado is the largest park in the region and contains the world's only tropical lowland rainforest as well as 500 different species of tree. Swimming is hugely enjoyable in Corcovado, however, crocodiles and sharks are known to frequent certain areas so always check with a ranger beforehand.
Corcovado is also a fantastic place for wildlife watching and contains many very rare and endangered species that you are unlikely to see in such abundance anywhere else. This includes whole colonies of vibrant scarlet macaws, vicious white lipped peccaries, red backed squirrel monkeys, tapirs and jaguars. Poison arrow and red eye tree frogs, pumas, spider monkeys, various species of sea turtle and the resplendent Quetzal also call Corcovado home. To take advantage of the park's incredible biodiversity, it is advisable to go with a guide who will lead you in the right direction and be more in tune with spotting the 140 different mammal species and 400 types of birds which can be found in the park.
Considering the opportunities a trip to Corcovado offers, it is surprisingly empty of tourists. This is perhaps because it is quite a mission to get there (10 hour bus from San José, 1.5 hours in a taxi and then a 1 km hike!!!) but once inside, your efforts will be rewarded. Facilities in the park are extremely good with five ranger stations where you can camp. Be warned that even in the dry season you are likely to experience rain in Corcovado which is what gives the landscape its beautiful richness, so come prepared with your waterproofs and you will be able to enjoy this jewel of a national park to the max.