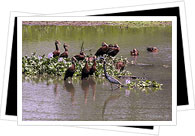 Parque Nacional Carara (Puntarenas Province)
The Carara National Park is of particular interest to biologists as it spans the transitional boundary between dry forest and rainforest. This results in the production of two life zones in which a diverse range of wildlife can be seen, there is also a sprinkling of rather magical looking pre-colombian archeological sites to explore as you journey through the foliage. The treks are therefore diverse and hikers will be kept busy exploring all that the varied vegetation has to offer.
Covering 52sq km, the area serves as a playground for monkeys, squirrels and sloths which can be spotted without having to look too hard. The park is also home to many birds, including Quetzals, toucans and one of the largest colonies of scarlet macaws in the world. It is advisable to go exploring with a well trained guide who will be able to ensure you see as much wildlife as possible. It is also best to get an early start in Carara National Park, as sunrise is when most of the animals are out and about.
The park is not too difficult to get to, being located only 50km from Puntarenas city and 90km from Costa Rica's capital, San José city. At the river Tárcoles, you will cross the 'crocodile bridge', where huge numbers of crocodiles can be seen bathing.