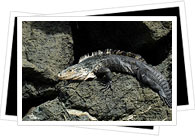 Animal lovers the world over will be in heaven exploring the incredible array of species that exist side by side in Costa Rica. Many people are attracted to Costa Rica purely for the birds and at the time of writing, over 850 species had been identified, including fifteen types of parrot and six tyes of toucan. The Quetzal is Costa Rica's national bird and another main attraction for the birdwatcher. This amazing animal has a long, elegant tail; bright green and red feathers; and an incredible spikey punk-style hairdo. It needs to be seen to be believed! The Quetzal is mainly found in the Central American mountain ranges of Costa Rica and North Panama and between Southern Mexico and Honduras.The best place to spot one in Costa Rica is Monteverde, in the Puntarenas Province.
Costa Rica is also home to around 200 species of mammals. In the 20 Costa Rican national parks you can see four different species of monkey. In Manuel Antonio National Park three-toed and two-toed sloths are in abundance, however, the latter is spotted with less frequency as it is nocturnal. Anteaters, armadillos, bats, jaguars and raccoons are among Costa Rica's animal inhabitants.
35,000 kinds of insect are reported to have been found in Costa Rica, including 10% of the world's butterfly species. Costa Rica is one of the only places to actually farm butterflies and visitors can go to the butterfly farm in Alajuela Province and learn all about the life cycle of these incredible animals.
Of the 175 species of amphibians in Costa Rica, frogs are particularly prominent animals, with their brightly coloured skins to warn off predators or toxin-emitting bodies, they have numerous survival techniques. Costa Rica's frog population includes anything from poison arrow frogs to tree frogs and glass frogs.
There are also 200 types of reptiles over half of which are snakes, however these are rarely spotted. Crocodiles and lizards are in abundance, as are turtles - Costa Rica has 14 species, three of which can be seen at the aptly named Tortuguero National Park.