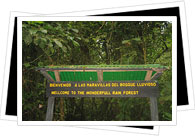 Parque Nacional Braulio Carrillo (Heredia Province)
This national park was founded in 1978 in order to protect the land from the enormous motorway (Guapiles) which runs through the centre, chopping the park into two. Excluding the highway, the park is a wonderful example of the rugged and luscious virgin forest that once upon a time would have covered most of Costa Rica.
Braulio Carrillo is located only 20km from San José city and therefore is not difficult to reach. Once inside however, not much has been done to facilitate tourists so whilst the hikes and trails do feel genuinely wild and raw, you need to come prepared and with a lot of stamina! Many tourists just admire the spectacular views as they pass through on the bus, however, Braulio Carrillo is worth getting to know a little better. Once inside the park you will find yourself stumbling upon dramatic canyons, rich rainforest, luminous orchids, glimmering rivers and breathtaking waterfalls.
The park starts at an altitude of 50 metres at its lowest point and towers up to 2900 metres above sea level at the highest point - the peak of the Barva volcano. The round trip up this volcano takes around five hours and takes you right up into cloud forests and past three beautiful crater lakes. There are also three other dormant volcanoes in the park; Cerro Las 3 Marías, Cerro Chompipe and Cerro Cacho Negro.
It is also a great place to catch a glimpse of Costa Rica's national bird, the Quetzal as well as toucans, jaguars and white faced monkeys. In fact, the park is home to over 500 species of bird and 150 species of mammal. The best way to see the animals is by taking the rainforest tram - this practically silent cable car does not scare the animals away and offers unbeatable views. It leaves from the furthest eastern point in the park.