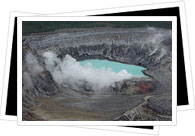 Parque Nacional Volcán Poás (Alajuela Province)
This is one of Costa Rica's most popular national parks with 250,000 visitors every year. Only 37km from Alajuela City, and 55km from San José, the park is very easily accessible and the journey in itself offers some spectacular views.
The main attraction is obviously Volcano Poás which can even be reached by car. The active crater gurgles and belches out sulphurous gases and sometimes fires enormous fountains of steam in geysers which makes for an unforgettable sight. Measuring 1500 metres across and 300 metres deep, this turquoise water filled pool is the largest active crater in the world. The nearby extinct crater is now a glimmering lake called Botos which is a nice place to relax and enjoy the tranquil views. Whilst Poás has not errupted since 1953, its constant movement is cause for caution and you should always check the latest in Alajuela before heading to the park, as they close it at the slightest sign of unrest.
The landscape which surrounds the volcano is magical and unlike anything you will have seen before. The acid rain from the volcano has impeded the growth of many trees and there are many steam vents in the humid atmosphere. The trails are all fairly easy which allows for time to take in the weird and wonderful scenery.
You may get a look at a Resplendent Quetzal in this park, Costa Rica's national bird, or even a very special Poás squirrel, which has only ever been spotted in this part of the world. Temperatures in the park often hit below freezing and the clouds can become dangerously thick so bring appropriate clothing and always get advice from a ranger before going hiking.