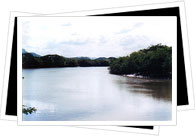 Parque Nacional Guanacaste (Guanacaste Province )
This national park is a bit different to the others that you may come across in Costa Rica. The interesting array of ecosystems between the dry and humid tropical forests characteristic of Guanacaste make it a well used habitat for migratory animals. There are also two volcanoes, Orosí which reaches 1487m in height, and Cacao, which transcends through dry tropical forest to cloud and rain forests at its peak of 1659m. If you want to climb the volcanoes you must arrange to go with a guide.
Guanacaste National Park is heavily focussed around the three high-tech biological research centres which it has on its grounds. This means that more biologists are attracted to the park than tourists, who tend to opt for nearby Santa Rosa or Rincón de la Vieja.