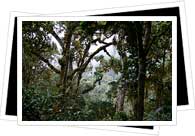 Parque Nacional Chirripó (Cartago Province)
The main reason people visit this awe-inspiring park is to trek up to the top of Costa Rica's highest peak, Cerro Chirripó. Nestled in amongst the Talamanca mountain range, this impressive peak reaches 3820m and is a hiker's paradise with cloud forests, rainforests and sparkling lakes.
The main climb takes two days and a lot of dedication and stamina. You must book in advance to ensure your place in the mountainside hostel for the first night or you may find youself out in freezing temperatures and without a bed!
Day one usually comprises of 6 to 8 hours of tough upward climb through some truly beautiful scenery which gets even more unusual the higher you get. Most people choose to do the second day's climb in the dead of night, starting at around 3 or 4am so as to make it to the windswept plateau which caps the mountain for sunrise. Here all your aches and pains will be forgotten (momentarily) as you watch the sun float up peacefully through the clouds and a glorious natural light show fills the sky.
The best time to do the climb is in the dry season as the wet season can get very muddy and slippery despite the well maintained track. Regardless of the time of year you will need super warm clothing as the temperatures often drop to below freezing which could make for a very uncomfortable night's rest on the moutainside if you come badly prepared.
There are also several other hiking trails which can be followed, depending how long you plan to stay in the park. Hardcore hikers can embark on a 4 day trek, whilst the less energetic can follow a choice of smaller trails.
No matter where you trek to, the Chirripó National Park contains some really interesting ecosystems owing to the variance in altitudes, climate and topography from cloud forests and fern groves to swamps and open páramos.
Similarly, the park will be of great interest to all you animal lovers. Not only is it a great place to see a Quetzal, but also many different mammals like jaguars, monkeys and the largest tapir population in all of Costa Rica.