Heredia Highlights
Heredia Province Highlights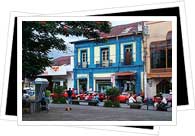 Heredia City
Heredia City was founded in 1706 and is full of colonial charm. Centred around the Parque Central, most of the attractions are found on the roads surrounding this chilled out park. The National University can also be found here, meaning there is a lively student population during term time. For more information on what to do when visiting this lovely city, visit our Heredia City page.
Café Britt Finca Tour
Coffee lovers should not miss this wonderful tour around the Café Britt plantation. Café Britt is the most important exporter of coffee in Costa Rica and a very well known and respected brand. The tour includes much coffee tasting, a trip around an organic coffee plantation, deomonstrations and a tasty lunch at the plantation restaurant.
Barva
This charming town is a wonderful place to wind down and reflect on your travels so far. The laid back atmosphere and the pretty architecture, although not spectacular, are rather understated and attractive. The huge baroque church is worth a peek too.
Braulio Carrillo National Park
In addition to the Barva Volcano which reaches a massive 9500 feet, you can spot a huge variety of Costa Rican wildlife, gaze at incredible waterfalls, beautiful rivers and the stunning virgin forest in this national park. To find out more, check out our page on Costa Rican National Parks.
Rainforest Tram
This is an unforgettable and ecologically friendly way to see the rainforest. This practically silent cable car was the first of its kind when it was opened in the 1990's and the fact that it makes no noise ensures that animals are not scared away. The cable car trip takes around an hour and a half and leaves from the far eastern end of Braulio Carrillo National Park.