Food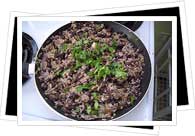 Eating traditional Costa Rican food is your cheapest option. Most dishes include fried rice and beans which is then supplemented with other ingredients like chicken or tuna. This combo is popular morning, noon and night and most Costa Ricans kick start their day with a bowl of Gallo Pinto rather than a bowl of corn flakes! Gallo Pinto is fried rice and black beans and is a healthy and wholesome option, especially for those travellers who need to keep their energy up! At lunch time the most traditional food is Casado, which adds tomato salad, plantain, cabbage and meat to the staple ingredients of rice and beans. Costa Rica's beaches and coastal towns are especially good for fresh seafood. Seabass (Corvado), Red Snapper (Pargo) and Dorado (Mahimahi) are always very tasty. Unfortunately, much of the shellfish like lobster and shrimp is exported and therefore if you do find some, it won't be cheap. In the eastern province of Limón there is a distinctly caribbean flavour to all the food. Jamaican classics like jerk chicken and rice with peas are widely available.
Fried Yuca and Plantain make yummy snacks and are pretty much the only vegetables which feature in Costa Rican cuisine. Fruit is delicious and in abundance, especially tropical delights like mangoes, passion fruits and papaya which can be eaten raw or in fresh fruit juices. Make sure you sample a few Bocas as well. These tasty appetizers range from tamales to little sandwiches, cerviche (raw seafood soup) to gallos (tortillas stuffed with meat or beans). In some places they come free with your drink, whereas in others you may have to pay a small amount, but it's well worth it.
Food can be bought from Pulperías (general stores) or the many street stalls which can be found all over the main cities. Similarly, Costa Rica has a wide selection of restaurants and cafés which cook up traditional and world dishes. In San José city, Costa Rica's capital, there are also an exceptionally large number of international eateries.
Whatever your taste, the beauty of Costa Rica is there is something for everyone, so get munching and enjoy!