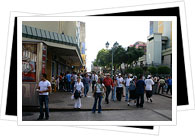 San José Province Highlights
San José City
The city of San José was founded in 1737 but did not become Costa Rica's capital city until 1823, when the title was handed over from Cartago. Today, San José is one of the most metropolitan capital cities in central america. Some visitors complain of being disappointed at getting off the plane and finding an intensely modern, built up, smoggy city. However, amongst the highrises and the pollution, San José embodies the soul of modern day Costa Rica and is well worth dedicating some time to. There is plenty to do in the city, from museums and parks to wander around to a pumping club scene that goes on all night. Follow the link for more information on San José city.
Cerro de la muerte
This is a long winding stretch across the panamerican highway which makes a lovely drive and offers absolutely stunning views of Costa Rica's most wonderful vegetation.
There are several charming little towns nestled in amongst the Talamanca mountain range which make lovely day trips from San José city. San Gerardo de Dota is especially nice, it is home to a traditional farming community and is especially good for trout fishing. Alternatively, Santa Maria de Dota is set in a dramatic valley and is a great place for birdwatching, with over 200 species, the Costa Rican Queztal in particular. Mountanous San Ignacio and San Isidro also make very pleasant city getaways in less than an hour from the city.