Costa Rica is one of the 22 countries where Spanish is the official language, so if you're traveling there it would be convenient if you spoke the language. Learning Spanish will help you understand the Costa Rican culture and its natives, of course, but the usefullness of Spanish is much greater: being the second most spoken language in the world, Spanish will be very valuable in your job and when traveling abroad.
Why learn Spanish?
We've already told you about the importance of learning Spanish, but it's much more than that. When you learn a new language you open your mind to new ideas, you see things differently, you broaden your mind. If you learn Spanish in Spain, it will give you a new view of the Spanish and Latin American cultures, and it will make those countries seem much more interesting.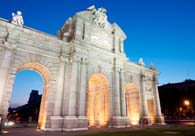 When you study a new language, your ear and your mind get used to hearing sounds that were once foreign to you, so learning Spanish will also lessen the difficulty of learning another language, especially those that are similar to Spanish like Portuguese, French or Italian. Taking Spanish classes in Barcelona is an excellent way of learning the language, and you can take advantage of this to explore one of the prettier and more picturesque cities of Spain.
Learn Spanish in Mexico
Mexico is an awe-inspiring country, a hugely popular tourist destination and a great place to learn Spanish. Whether you decide to visit the busy and cosmopolitan city of Mexico D.F. or walk along the shore of the heavenly beaches in the Yucatán Peninsule, Mexico has something to offer to every tourist.
If you decide to learn Spanish in Mexico you will notice how their customs become alive in front of you: you will be able to banter with the locals, understand what's being said around you in the street markets and, best of all, you will feel understood and more at home. Learning Spanish in mexico is a wonderful experience which will make you want to repeat!
Peru Spanish Schools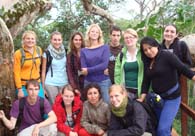 The Inca Empire was one of the most interesting, advanced and misterious civilizations in the world: they created the Nazca Lines and the legendary sanctuary of Machu Picchu, considered a part of the new Seven Wonders of the World, and they even had their own calendar, which isn't too different from ours.
Peru is home to what is left of this inspiring civilization. Their culture is a peculiar mix of Christian and Inca beliefs, also influenced by the cultures of the immigrants who fled Europe towards the New World, and the Peruvian gastronomy is recognized as one of the best in the world. If you study Spanish in one of the many Peru Spanish schools, you will get the chance of exploring the Inca ruins, eating the amazing Peruvian food and conversing with the locals to perfect you Spanish.