Study Spanish in Costa Rica with Enforex
Enforex is a well established organisation which is highly respected throughout the Spanish speaking world for offering top notch language programs in 24 destinations throughout Latin America and Spain. Founded in 1989, Enforex is the world leader in delivering high class Spanish language tuition by native teachers in a relevant, Spanish speaking environment to over 20,000 students from 52 different countries every year.
Why Learn Spanish in Costa Rica?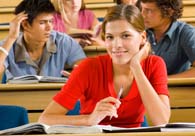 Costa Rica is a unique destination in which to learn Spanish. The country offers beaches, national parks and bustling cities which will keep you entertained and offer plenty of opportunities to practice your Spanish in your free time!
Enforex has five schools in Costa Rica; in the Cloud Forests of Monteverde, on the coast at Flamingo Beach or Jacó, in the thriving student town of Heredia or the traditional village of Coronado. You can create a Spanish course catered to your own personal taste by combining lessons at any of these three schools.
Enforex offers homestays as accommodation in Costa Rica which can really enrich your time in this wonderful country. Ticos are warm and welcoming people who are interested in foreigners and willing to teach you all about their culture, meaning that you will learn a lot more than just the language.
If homestay is too much immersion into the Tico culture at one time for you, then Enforex also offers accommodation in private studio apartments in Flamingo Beach, dormitories in Flamingo Beach, Heredia and Monteverde, student residences at Coronado or you can share a flat with other students if you are studying at Playa Jacó.
Enforex classes are kept small with an average of 5 and maximum of 10 students per class to ensure you receive personal attention. Courses are offered to students of all levels from beginners to superior and you can start whenever suits you best as courses begin every Monday, all year round. There are also organised excursions to ensure you get to make the most of Costa Rica whilst you study.
No matter what your age, Spanish level or specific interests, Enforex offers a wide variety of courses including the following:
Intensive Spanish Course + Culture Lessons
Learn Spanish While Traveling
One-on-One Courses
DELE Exam Preparation
Business Spanish
Spanish + Internship
Golden Age Program (50+ years old)
High School Program
... and more!