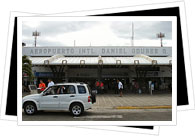 Costa Rica has two main airports which receive international and internal flights. Plus there are numerous smaller airports which you can get to via a short internal flight. The two main airports are the Juan Santamaría Airport in the Alajuela Province and only 20km from San José city, and the Daniel Oduber Airport, near the city of Liberia in the Guanacaste Province. It is necessary to pay a departure tax of $26USD.
Major Airlines
Grupo TACA is the main Latin American airline which operates throughout North, South and Central America.. The Costa Rican internal strand is called SANSA (www.flysansa.com) and LACSA (www.tacaregional.com) operates throughout the U.S and Latin America.
Juan Santamaría Airport is useful for starting off your trip in San José or anywhere in the Central Valley or for heading towards the caribbean coast. Flights to and from the US, Canada, Europe and Latin America use this airport.
Air Canada www.aircanada.ca
Air Comet (Madrid) www.airpluscomet.com
Air Panama www.flyairpanama.com
American Airlines www.aa.com
Condor Airlines (Frankfurt, Germany) www.condor.com
Copa Airlines (within Latin America) www.copaair.com
Cubana de Aviación (Cuba) www.cubana.cu
Iberia (Madrid and London) www.iberia.com
Martin Air (Amsterdam & U.S) www.martinair.com
Mexicana www.mexicana.com
Virgin Atlantic (UK package deals) www.virgin-atlantic.com
Daniel Oduber Airport is perfect for exploring the Pacific coast and the Nicoya Peninsula, it is also popular with tour companies running package deals..
Air Canada www.aircanada.ca
American Airlines www.aa.com
Continental Airlines (U.S) www.continental.com
Delta Airlines (U.S & Latin America) www.delta.com
First Choice (UK Package deals) www.firstchoice.co.uk
Sky Service www.skyserviceairlines.com
Domestic Flights
Sansa (www.flysansa.com)
Paradise Air (www.flywithparadise.com)
Nature Air (www.natureair.com)
These are all popular airlines for taking short internal trips. Using light aircraft or helicopter, these companies can pick up and drop off all over Costa Rica. Although not the most economical option, it does save a lot of time and cuts a 5 hour bus journey into a 40 minute plane ride!
Eco-Friendly Air Travel
Nature Air is a particularly good choice if you are interested in doing your bit for the environment. Since 2004 Nature Air has been compensating for all C02 emissions by investing the dollar equivalent in the restoration of rainforests in Costa Rica and therefore helping Costa Rica work towards being a completely sustainable country.
Flights with Nature Air from San José leave from the Tobías Bolaños Airport.