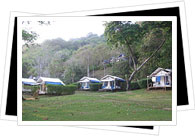 Camping in Costa Rica can be a cheap and fun option. However, if you are planning to camp you must ensure you are thoroughly prepared and plan your route carefully before you go.
It is important to note that camping has been prohibited in a lot of areas, especially on beaches and in some national parks, in order to preserve these areas of natural beauty. If you pitch your tent in any old place, you may find yourself in an unsafe area and in trouble with the locals.
Camping is especially unadvisable on the caribbean coast in the Limón province, where crime is at its highest - even in the official campsites, never leave valuables inside your tent. It is also essential to check out the weather before you set off, as even in the dry season, some areas still have daily downpours so be sure to pack accordingly. Always bring provisions as campsites may be located a long way from any shops and be sure to pile on the insect repellant AT ALL TIMES.
Most towns and popular beaches have designated campsites in Costa Rica with toilets and cold showers. Some even rent out equipment so you don't need to lug your stuff around everywhere. Recommended campsites can be found in:
Santa Rosa National Park; Camping on beach although access is tricky (Guanacaste Province)
Corcovado National Park; Corcovado Lodge Tent Camp (Puntarenas Province)
Samara Beach; Camping Los Cocos ( Nicoya Peninsula, Puntarenas Province)
Cahuita National Park; Puerto Vargas Campsite (Limón Province)
Manzanillo Beach; Almond and Corrals Tent Camp (Limón Province)
Turrialba; San Agustin Camp Ground (Cartago Province)