A very popular form of accomodation in Costa Rica is to rent a villa or cabin. This option spans all possible price ranges from economic cabin lets to luxury villas within expensive beach resorts.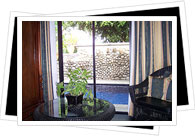 Villas will have a private kitchen, bathroom and possibly even a swimming pool and tend to be the most expensive option.Whether you choose a budget or a designer villa, this option tends to give you more freedom and privacy, a well equipped kitchen to try your hand at a bit of local cooking and is also a good choice for families with young children.
Cabinas and ´Lodges' can work out a lot more economical and offer more privacy than a dorm room and a more unique atmosphere than a hotel. They will normally come with a private bathroom but kitchen and swimming pool are often communal.
Cala Luna Hotel & Villas in Playa Langosta, Tamarindo (Guanacaste Province) is a good example of luxury accommodation with swimming pool and villas ranging in price depending on size and facilities.
Funky Monkey Lodge in Santa Teresa on the Nicoya Peninsula (Puntarenas Province) offers mid-range cabinas with porches, hammocs and outdoor bathroom/ gardens. There is also surf board hire.
There are numerous choices and it's well worth searching on the web as booking via the internet often warrants discounts. It is advisable to speak to a tour operator or to contact the owners directly in order to ensure you are getting the right kind of deal with the facilities that you need.